This was my literal reaction when I saw that the Cowboys were going to play Tony Romo a little bit on Sunday.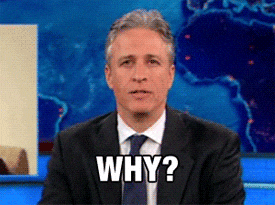 Even if it's for a series or two, why would the Cowboys even put him out there?
I guess what I don't understand is really the upside of this move. Sure, it could be important to get Romo some reps but what kind of team is prepping for their QB getting hurt? Also, can we talk about Dak for a second? That dude is built like a rock. He's really durable and I can't really see him getting hurt. So, I guess the upside is get him out there and make sure he's good in case Dak goes down, which I highly doubt would happen.
But how about the downside?
Let's say Romo goes out there and gets hurt.
This means Mark Sanchez is this teams back-up for the playoffs in the case that Dak does go down. Eek. Want to know something insane/really stupid, Sanchez has more playoff wins than Tony Romo.
If Romo gets hurt, good luck trading that this offseason.
Ian Rapoport is also reporting that when Romo is out there, he's going to be playing behind the back-up offensive line. Are they asking for him to get hurt?
The risks do not outweigh the positives in this case. If I'm the Cowboys, I'm keeping Romo as healthy as I can so I can trade him this offseason for a pretty good return. He won't yield much if he gets hurt again.
Romo may go out there, run the offense very smoothly for two drives and get out unscathed.
But that doesn't mean it was the right decision.