The most important coin flip in the history of the world will take place today at 12:30 as we will finally find out if the Eagles are picking 14th or 15th in this upcoming NFL Draft.
To watch the coin flip, I'm pretty sure you are going to have to check out the NFL Network's Facebook page or Jimmy Kempski's Facebook page. Either way, it's important and I'm already getting nervous. What if the Colts get 14 and take Dalvin Cook? Anyway… Tails Never Fails.
Obviously, this Brandin Cooks story is going to dominate Eagles talk for the next couple of days. In case you haven't heard, according to Alex Marvez, the Eagles are viewed as the likely landing spot for Cooks and that it should only cost a second rounder. Me thinks that the Saints asked the Titans for their first round pick (18th overall), which led to the Saints looking at the next highest/best pick, which would be the Eagles second round pick. I don't want to fall to hard, but I'm falling… Don't let me down, Howie.
Chip going to T.V?




According to a report from Charles Robinson, Chip Kelly auditioned to be an analyst for FOX Sports. BAHAHAHAHA. Oh how the mighty have fallen. First off, Chip hates the media with a passion and now he wants to join them! And second, Chip would be HORRIBLE on T.V. This would be like putting Belichick on T.V. I'm sure Chip could come up with some smart witty response for things every once in a while, but overall, I think it would be a trainwreck. Going to T.V would be smart for Chip though as it is viewed as coaching rehab. People from around the league will listen to Chip say something smart and be like, "Oh Chip Kelly, let's give him a gig." It's worked for coaches in the past, so why not for Chip? I just imagine this being Chip on live T.V: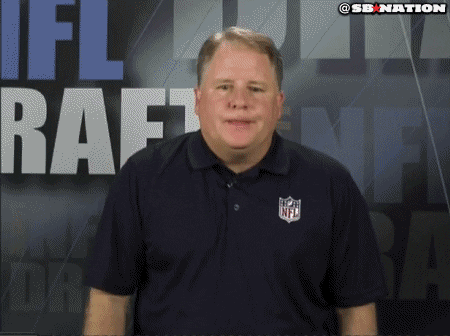 Hey guys Mychal Kendricks is available!




We've known that Kendricks has been very available for a while now. According to Eliot Shorr-Parks, the Eagles are talking to teams at the combine about him. 
Not major news, but just confirms that they're still trying to move on from Kendricks and get any kind of value for him rather than just releasing him.
The Eagles can save $5 million if they cut Kendricks.